Shrikhand Mahadev is not just a Trek. It's a life transforming Yatra, which will test not only your physical and mental fitness but your willingness and devotion too. It is an experience, which cannot be described in words or pictures. One thing is certain that when you reach there, your fatigue, hunger, thirst all vanish and you are transported to a different realm. A realm beyond the tangible and the temporal.
Shrikhand Mahadev is a naturally formed Shivling that is around 75 feet in height situated at around 5000-5140 m  (16404-16864 feet ) in Himachal Pradesh (India), where you reach after an arduous trek of around 25 kms one way and around 50 kms total.
I undertook Shrikhand Mahadev yatra in July 2017 with my sister. This was my fourth Kailash yatra after completing Kailash Manasarovar yatra from Lipulekh Pass, Mani Mahesh Kailash, and Kinnar Kailash. I literally had to coax my sister to do at least one Kailash yatra with me.
My reason to undertake Panch Kailash was to pay tribute to my father whom I was extremely close to and who introduced me to Mountains as a child when I did Amarnath Yatra with him on foot at the age of 5. His loss affected me deeply and the only way I could connect with him was through mountains. So it was a calling from within to do Panch Kailash yatra as a tribute to my father.
Through this travelogue, I would like to share my experience and all the relevant information pertaining to Shrikhand Mahadev Yatra.
For detailed information on Kailash Manasarovar Yatra and to read my travelogue, click here.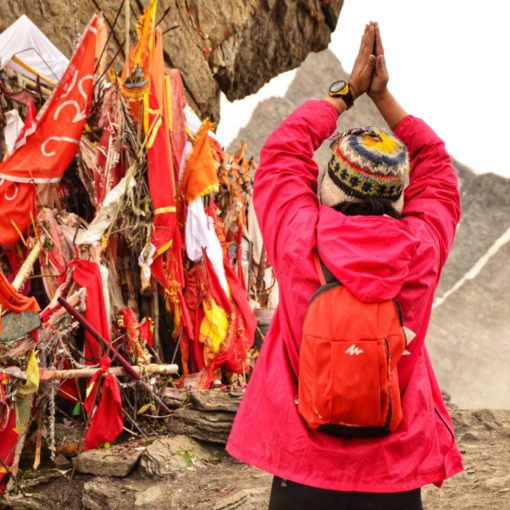 Shrikhand Mahadev – About the Yatra
Shrikhand Mahadev is one of the five Panch Kailash yatras, which includes Kailash Mansarovar, Manimahesh, Kinnar Kailash and Adi Kailash. Shrikhand Mahadev is one of the toughest pilgrimages in India and is situated in Kullu district in Himachal Pradesh at around 16404-16864 feet above sea level.
Once you reach the top you are mesmerized by a naturally formed rock in the shape of a Shivling, which stands around 75 feet tall. From the top, you get a breathtaking view of the Himalayan ranges from the Parvati valley of Kullu,Kartikey peak, Jorkandan, the Rangrik ranges of Kinnaur, Kinnar Kailash and other surrounding peaks to the southeast of Sutlej.
The Yatra is usually undertaken to coincide with the Ashada Poornima (full moon day in June or July)