If you liked it, please share and spread the love :)
Snippets of My exodus Story…How it robbed me of my home and childhood – Part 1
I remember the day when my Dad handed me a wooden ice axe and said, "You are stronger than what will happen here. "
As militants came marching towards our home in Habbakadal, Kashmir, I stood motionless, frozen in fear holding that wooden ice axe with tears rolling down my eyes.
I looked at my parents, wondering if we would survive another day, little knowing what death meant. I was a child who should have been holding hope and smiles in my heart and not frigid fear. As we stood huddled close to each other fearing the unknown, the footsteps stopped near our doorstep. I vividly remember the mob retreating from our doorstep. They retreated as the roaring echo of "kill pandit men and rape pandit women" slowly faded away.
Was it the grace of Shiva or a fervent prayer of a trembling girl? I would never know…
Down the years, the same ice axe became a symbol of my strength and defiance. The same ice axe took me to Amarnath Cave as a child and shaped my life as a mountaineer later in life. The wooden ice axe has now turned to cold steel and my will is wooden now. My father is no longer around but the power of the grit that he passed onto me lingers on.
I didn't let the exodus make me bitter but the world around made sure I only saw apathy, indifference, callousness and false narrative. In my student years, I went back to Kashmir to pursue MBBS. A part of me also yearned to connect with my home and roots and to understand why it all happened. During my stay there, all I would hear was that the then Governor, Jagmohan (and not militants) was responsible for driving Kashmiri Pandits out of the valley. Rather than being inquired about my life, I would get questions in my face whether we have sold our house and why did we run away. The smirk on their faces could not be missed.
There was a time when I would get worked up and retaliate but I have realized we can never change the consciousness of people with aggression and hate. The people believe what they have been fed and brainwashed into believing. I reckon that sensitivity is an asset you are born with.
I wonder where does this deep level of insensitivity spring from? Perhaps I would never know…
My pain and suffering have only made me more aware of what it means to see your house burned to ashes and for an entire community threatened. In the midst of all this, some Kashmiri Muslims defied the frozen apathy and made me believe in the goodness and kindness of humanity.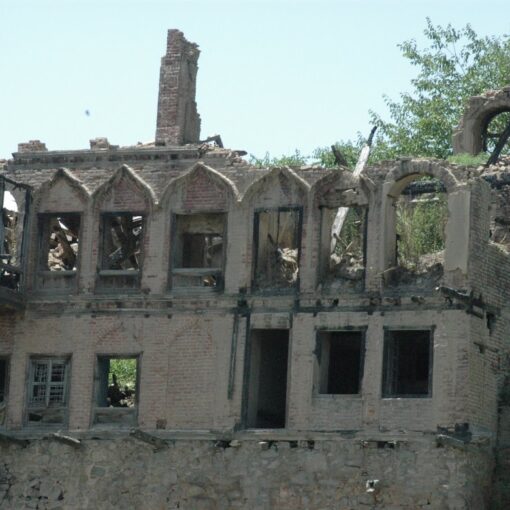 Whether it was my dad's friend, Ghulam Hassan Mir uncle or my Anatomy Professor, Mudassir Sir who would recite Bhagwat Gita shlokas to many friends who loved me unconditionally. My heart is filled with warmth for strangers who have come forward and said sorry to me for what happened. I know it's their heartfelt expression.My brother Adil with whom I shared my life stories and plans of climbing together before God snatched him from us and would too deep to heal.
My dad told me an anecdote where he spotted a militant with a gun who had come to kill a Kashmiri Pandit. But upon seeing Dad, he lowered his gun and walked away as he remembered Dad and him used to play Cricket together a few years ago. Dad spared no words as he asked him to get out of there. This story made me realize that Cricket bats are mightier than guns!
There was a time when I could no longer hold back and went back to Hababkadal to see the ruins of my burned house with my father. The faint glimmer of hope was met with jeers from locals. I was glad that my pain was so deafening that the jeers merely ricocheted away.
These days, I see pictures of Kashmir and the social media influencers posing as brand ambassadors with their cosy pherans and snow walks in slow motion. I wonder at the random people talking about the Kashmir issue and katlams and kehwa and it all takes me back down the memory lane where I, as a young girl had planted a seed of French Bean before we were forced to leave our homes.
A home that once echoed with the sounds of laughter and carefree banter, now laid burned to the ground. As the land grabbers slowly encroached and my mulberry tree dried up yet stood tall as a spectator to the fury around it, I could feel my face flush with incessant tears rolling down my eyes and cooled the scorched home of mine.
Even though houses of so many people were burnt, the memories remain as fresh as ever, untouched by the flames of hate and extremism. Even as people scampered to gather their belongings, my heroic dad managed to get most of his books and a few documents. I remember people asking my dad, "why did you save these books and not jewellery and clothes?" He said that books were the only treasure worth keeping.
Mir uncle poignantly reminisces the time when together they went to see our house after it was burned down.
"As he stood amidst a somber pile of torn books at the entrance, he said that Home is where the heart lives. And my heart lives in these four damaged walls. I don't lament as much for the house as I do for my library. It pains me beyond words to rue the loss of a hand-written 300 year old holy Quran that once graced this library."
Why still killing of militants calls for protests and killing of unarmed Kashmiri pandits is work of Unknown forces and life goes on Kashmir.
I believe that hatred is an easy path to take but it's no surprise that no flowers will ever bloom there. I hope someday I can go back to the place I call my home.
Dark and lonely night,
When I felt alone,
Fear held me by hand,
And I felt less alone
Death came in cloak of friend,
And yet again I was deceived
Life in fear she felt
Was much worse than death….
There are times when I feel I am back home again. My dad is with me and we are climbing our beloved hills together. The reason for writing this article is not to condone the suffering of others but to narrate how the exodus and the violence and the unforgiving living conditions affected a young Kashmiri Pandit girl. I have neither political commentaries to make nor is there any space for jingoism or hatred in my heart.
Sometimes, I take a pause and look back. From the eyes of a child that were once full of wonder and later turned to despair and agony of losing her home. Or perhaps the entire childhood. I wonder how the world went on and on while we went down and down.
Dr. Varuna Raina
Jan 19, 2022
32nd year of Exodus and counting
Story of Kashmiri Pandits Exodus from the Kashmir Valley as a result of systematic Islamic Terrorism in 1990
If you liked it, please share and spread the love :)