If you liked it, please share and spread the love :)
It was Dec 31st, 2020. As I sat and watched the Sun go down at Kasar Devi temple with visitors clicking selfies trying to find the perfect pose, I wondered what brought Swami Vivekananda and other visionaries  to Kasar Devi. Perhaps there was an invisible and mystic force at work. Or may be they were drawn to the charisma of the Himalayan crags. Whatever it was, just being there with my eyes half closed and breathing in the bone-chilling mountain air, I felt as if I had stepped through a crack in the whirls of time and found myself surrounded by an unseen magnetic pull. This is my write up on Kasar Devi and I thank you for taking the time to read it 🙂
It was the last evening of 2020. Sun was fiery red with clouds dancing in a mélange of different shades of red to usher in the new year.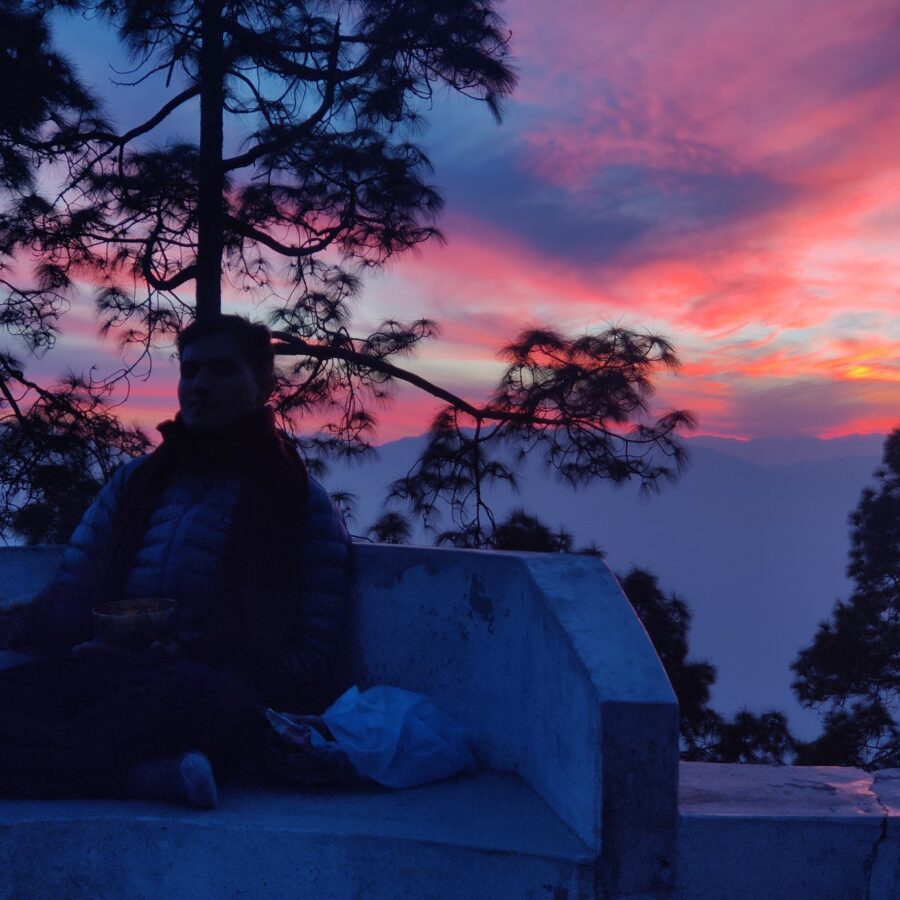 It was one of the most ethereal sunsets I had seen. I felt an eerie calmness as I sat with my eyes closed listening to the temple bells ringing, symbolic of thawing the unpredictable 2020. Gautam and I were engrossed in contemplation oblivious of people and the sounds around us. We felt enveloped in the blanket of Himalayan love with Ma Nanda Devi watching us from afar in gilded hues. With majority of 2020 being engulfed by the COVID-19 Corona Virus pandemic and the uninvited lockdown and quarantine, we had been looking forward to bid farewell to 2020 at Kasar Devi. A fervent hope that the cosmic energy of that place will rejuvenate us and reveal some of its hidden secrets.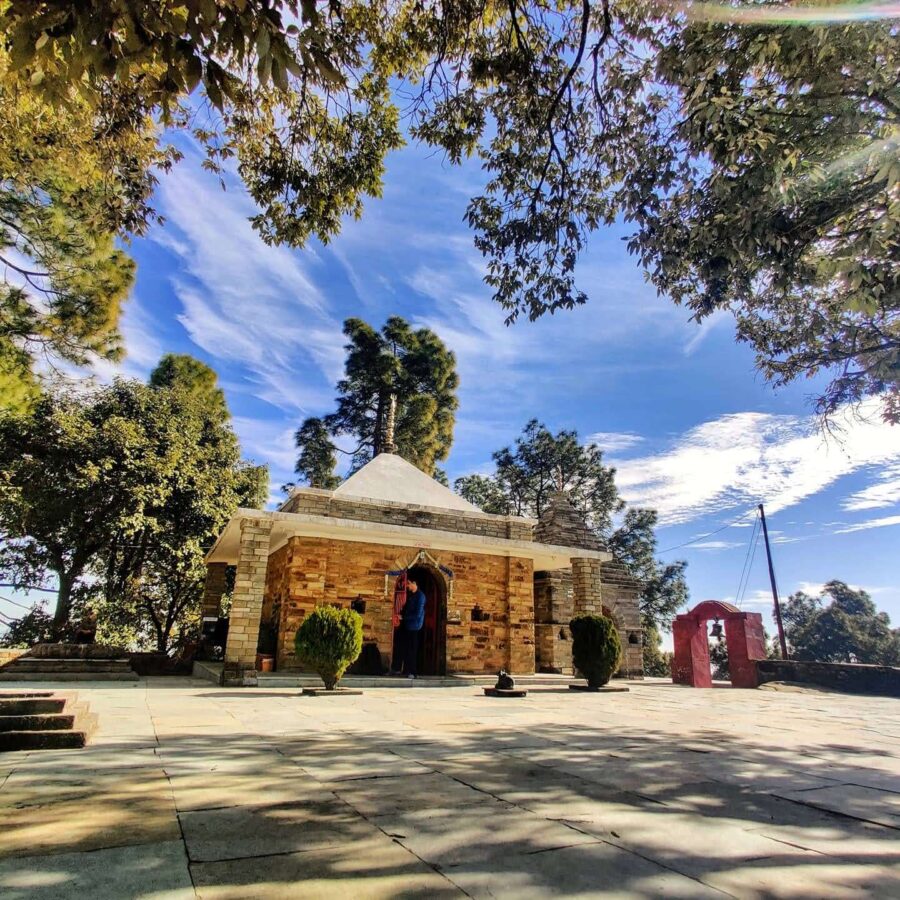 A sudden flashback reminded me of my previous visit to Binsar Wildlife Sanctuary when I had merely passed through Kasar Devi, stopping briefly at the shrine, but the moments spent there were timeless. I knew I would be back soon. The crisp sunshine and the clear blue skies with the mighty Himalayan ranges in the backdrop were all the reason I needed to slip away. 
Gautam sat inside the 2nd century Shiva temple on hilltop meditating with his Chakra healing bowl. I was some distance away underneath a tree but could hear the naad reverberating through the shrine. The sound of the bowl was mellifluous and echoed through the hills and seemed to soothe the fractured souls who bore the brunt of 2020. The moment was truly transcendental. Neither pictures or videos can describe it. 
We had reached the temple late morning and after having darshan, we spent a few hours in silence. Was it the effect of the electromagnetic radiations, cosmic energy or something else, I cannot tell. While you're there, do not forget to visit the Cave beside the temple where Swami Vivekananda spent time in meditation around 1890. Kasar Devi boasts of imposing views of Himalayan ranges right from Chaukhamba to Panchachuli and sun rays lightening up Trishul and Nanda Devi. It's a majestic sight to behold.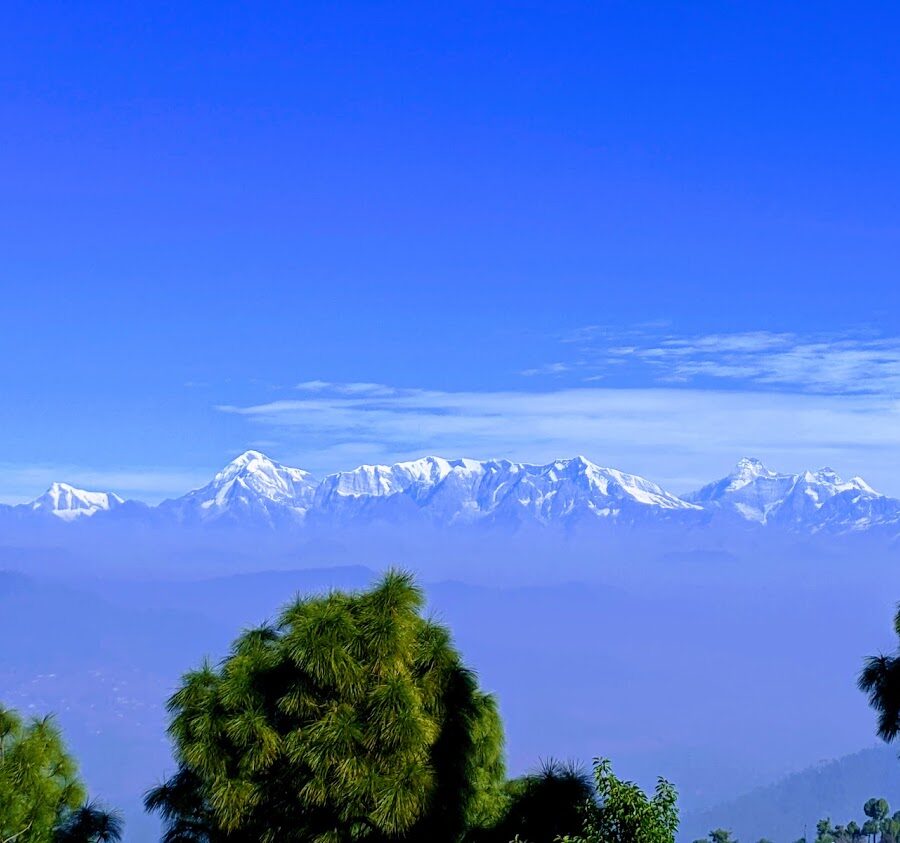 About Kasar Devi
Kasar Devi is located around 8 kms from Almora and 378 kms from Delhi. Kasar Devi village derives its name from the local deity, Kasar Devi, who is worshipped as a form of Durga. The temple dates back to 2nd century and is situated on the top of the Kashyapa hill. In the temple, "Goddess Katyayani", one of the eight forms of Goddess Durga, is worshiped. The temple complex has two temples, one of which is Devi and another is of Lord Shiva and Bhairava. The main temple has a monolithic flame (Akhand Jyoti) that is supposed to remain lit 24 hrs a day. The main temple of the Goddess is located inside a cave. Swami Vivekananda was amongst the first of the luminaries who came to this place in 1890 and held it in high regard. A popularly known Kasar Devi Fair, is organized and celebrated at the Kasar Devi temple on the occasion of Kartik Poornima during November and December every year.
Van Allen Belt
It is said that Kasar Devi Temple is one of the three places on Earth under the impact of magnetic fields responsible for capturing Van Allen Belts discovered by NASA. It is said that NASA sent its scientists to learn about this mysterious place and accepted that the gap in what is called the Van Allen belt, is a collection of charged cosmic particles that stick together due to the earth's magnetic fields. There are only two other spots on Earth, Machu Picchu in Peru, and Stonehenge in England where such magnetic fields are experienced, making the area conducive to transcendental experiences. It is a common belief that due to the presence of these fields, you get a peaceful and relaxing experience here. Gautam especially was excited to know about this as he is a time travel buff and keeps experimenting with radionics and electromagnetism. Who knows whether it's a reality or a myth, but I believe that somethings are only revealed via direct experience and not by fact finding. 
Swami Vivekananda at Kasar Devi
Swami Vivekananda, amongst his countless pilgrimages, chose to travel to Kumaon to seek inner peace. Beginning his journey in Nainital where he stayed at the Kakrighat Ashram, he walked to Almora where the local Sah family offered Swamiji their house in the main Bazar. He then walked to the lush green hills of Simtola and Kasar Devi where he meditated and stayed for some time to look for answers to life's deeper questions.
In Almora, he inspired Captain Sevier and Mrs. Sevier along with Swami Swarupananda, his disciple, to commence looking for a place to house an Ashram. They found it at Mayavati, 6,400 ft. above sea level, at Champawat. In September 1890, Swami Vivekananda meditated and performed the most severe forms of spiritual practices, in a solitary cave near the Temple area at Kasar Devi. 
Famous Visitors to Kasar Devi, Crank's Ridge, Hippie Hill
Crank's Ridge, sometimes called Hippie Hill, is a pine-covered ridge located on the way to Kasar Devi temple. The place got its popular name, Crank's Ridge, ever since the infamous American Psychologist, Timothy Leary who dabbled in LSD and other psychedelic experiences streaked on the ridge in the 1960s during the peak of hippie movement. At the time, the then US President, Richard Nixon had declared Timothy Leary as the most dangerous man living in America. The ridge became a haunt for bohemian artists, writers and spiritual seekers in the 1920s and 1930s, including notable western Tibetan Buddhists, W. Y. Evans-Wentz, and Lama Anagarika Govinda, who in turn was visited by Anandamayi Ma and Neem Karoli Baba. Other early people connected to Crank's Ridge were Earl Brewster, an American artist and his wife Achsah Barlow Brewster, author John Blofeld and Danish mystic Alfred Sorensen (Sunyata Baba). Famous English writer, DH Lawrence (who authored Lady Chatterley's Lover) also spent time here. India's first Prime Minister, Jawaharlal Nehru also spent his vacations at the Khali Estate owned by his sister Vijayalaxmi Pandit.
Famous artists of the 60s, Bob Dylan, George Harrison and Cat Stevens also visited the ridge. Later on, Richard Alpert also visited who was later named as Baba Ram Dass by Neem Karoli Baba. Scottish psychiatrist, R. D. Laing spent some time there in the early 1970s; as did Robert Thurman, the Buddhist scholar, who spent six months with his family, including their 3-year-old daughter Uma Thurman (famous Hollywood actress), studying with Lama Govinda. The cult reputation of Kasar Devi is also attributed to the supposed gap in the Van Allen Belt above the ridge. There is also a Buddhist meditation center on the ridge. This Center is in a Buddhist Ashram (Bodh Ashram), originally the estate of Evans-Wentz, then of Lama Anagarika Govinda, then of a Tibetan-Ladakhi family. The Center is affiliated to the Drikung Kagyu order of Tibetan Buddhism. Tucked away in the forest of Falsima, accessible only on foot, is the Uday Shankar Academy, where the eminent dancer blended Indian classical with Kumaoni Ramlila to create a style all his own. His stellar troupe included, besides younger brother and sitarist Ravi Shankar, the music maestro Baba Allauddin Khan and his daughter Annapurna Devi, as well as actors Guru Dutt and Zohra Sehgal. Another regular visitor to Kumaon in the 1930s was Nobel Laureate Rabindranath Tagore.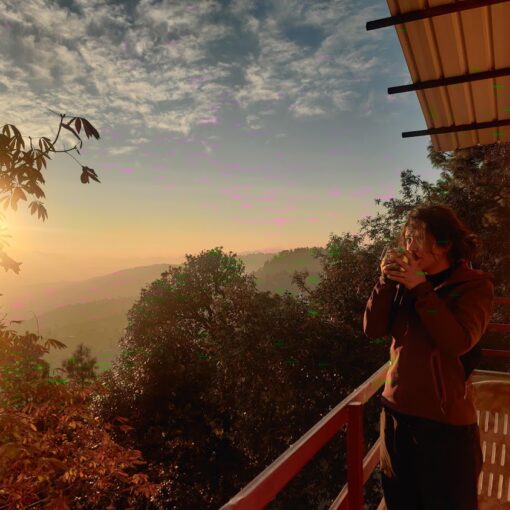 How to Reach Kasar Devi:
By Air – The closest airport  is located at Pantnagar which is at a distance of 124 kms. You book a cab heading to Kasar Devi via Almora which is situated at a distance of 8 kms from Kasar Devi. There are also numerous buses and shared cabs to Almora.
By Rail – Kathgodam is the closest railway station which is situated closest to Kasar Devi and is located at a distance of 88 kms from the temple. There are numerous taxis and buses which connect Kathgodam to Almora on an everyday basis. The most readily available trains at Kathgodam are Ranikhet express and Sampark Kranti.
By road – Kasar Devi is situated at a distance of 8 kms from Almora which is well connected with a network of motorable roads from all the major towns and cities. From Delhi, it's a 380 km journey that you can cover either in a Volvo or Normal bus. We usually drive our own car everywhere and leave around 4am from Gurgaon that takes about 10 hrs. 
Places to stay and eat
Kasar Devi is home to many visitors, who visit for short and long term stays. Based on your budget, you can find hostels, home-stays, Hotels and retreats. Baba Cake is a famous local bakery and Ahito's cafe has a nice vibe and a good view. Homestays like Kripal offer a panoramic 360 degree view of the Himalayan ranges. 
Around Kasar Devi
Binsar Wildlife Sanctuary – A 13 Km ride from Kasar Devi will take you to Binsar Wildlife Sanctuary. Trek to the top of Jhandi Dhar Hills and then to Zero Point for a magnificent view of the peaks of Kedarnath, Nanda Devi, Panchachuli, Shivling, and Trishul. The sanctuary is also a paradise for wildlife enthusiasts and bird-watchers. There's a Govt Tourist Rest House inside the sanctuary if you wish to stay here.
Katarmal or Surya Temple – Built in the 9th century, Katarmal temple is situated on a hilltop overlooking the valley. The main temple is surrounded by 45 smaller structures and the whole setting looks fabulous. To reach here you will have to trek up a little from the road. It is located about 19 Km from Almora and a private cab can be hired to reach the start point of the trek.
Bright End's Corner – Towards the beginning of the Almora Mall road, a sharp hairpin turn will take you to the Bright End's corner. Locals as well as the tourists can be spotted here marveling at the sunset and sunrise, which the point is popular for. You will find multiple cafes and food joints around the place.
Ramkrishna Kutir Ashram – In the vicinity of the Bright End's Corner is the Ramakrishna Kutir Ashram where the disciples of Ramakrishna performed austerity (Tapasya). The place was also visited by Swami Vivekanand and there is a library and memorial dedicated to him here. You can read more about the ashram here.
Almora, Ranikhet – You can visit these major towns if you have a day to spare.
Tarikhet – 2 hours away from Kasar Devi lies the historical village of Tarikhet. Located near Ranikhet, this village is famous for Gandhi Kuti, where Gandhiji lived at the time of freedom struggle. Consequently, the whole village has been monumental in the freedom struggle against the British. You will find abundant natural beauty in this quaint town which makes it worth a visit. The popular Golu Devta Temple is also situated here.
Nanda Devi Temple – Nanda Devi Temple is a 1000 years old temple dedicated to Goddess Durga. Situated in the wholesale market Almora, the temple has an ancient Kumaoni architecture. Nanda Devi Fair is also hosted in the temple in Aug-sept every year for 400 years where a huge number of devotees come. Tucked in the heart of Almora city, Nanda Devi Temple offers much-needed relief from the hustle-bustle of Almora.
Chitai Temple – Dedicated to Golu or Goljyu Devta, an incarnation of Lord Shiva, Chital Temple is situated about 4 Km from the main gate of Binsar Wildlife Sanctuary. The deity is believed to be the God of Justice and the one who fulfills all the wishes of his devotees. Adorned with thousands of bells in premises, the temple is one of the most religiously sacred spots in the region. Another interesting thing about the temple is that people write letters to the deity which you can see strung with the bells all around. You can read more about the history of the deity and the temple here.
Dhokaney Waterfalls – A beautiful hidden spot on the way to Almora, Dhokaney waterfall is a delightful place. The location is maintained by KMVN. There are benches to sit, swimming costumes can also be rented, clean changing rooms and washrooms are available, and a few teashops can be found. The waterfall is located 18 KM before Almora on an uphill road near Suyalbari. Although there are signboards, the route can be a little tricky so follow the google maps or the best way is to ask the locals.
Jageshwar Dham – Jagdeshwar Dham, frequented by a huge number of devotees every year, is a cluster of 125 Temples dedicated to Lord Shiva. The place has an abundant natural beauty all around. It is set amidst dense deodar forests and softly flowing streams. The temple is an hour's drive away from Almora.
Pariyadeva Pashan – Archeology enthusiasts, this is a place especially for you. It's a well-maintained tourist spot offering the beautiful view of the town with the backdrop of snow-capped mountains. You also have a lot of options to eat at Pariyadeva Pashan. It lies on the way to Binsar from Almora.
Kasar Devi is a tiny hamlet that is not so tiny anymore, yet still retains its charm and mystique. It's a must visit if you want to be away from civilization and find your own measure of peace before we over run it with concrete structures. I know I'll be back soon. 
If you liked it, please share and spread the love :)