If you liked it, please share and spread the love :)
Shrikhand Mahadev is not just a Trek. It's a life transforming Yatra, which will test not only your physical and mental fitness but your willingness and devotion too. It is an experience, which cannot be described in words or pictures. One thing is certain that when you reach there, your fatigue, hunger, thirst all vanish and you are transported to a different realm. A realm beyond the tangible and the temporal.
Shrikhand Mahadev is a naturally formed Shivling that is around 75 feet in height situated at around 5000-5140 m  (16404-16864 feet ) in Himachal Pradesh (India), where you reach after an arduous trek of around 25 kms one way and around 50 kms total.
I undertook Shrikhand Mahadev yatra in July 2017 with my sister. This was my fourth Kailash yatra after completing Kailash Manasarovar yatra from Lipulekh Pass, Mani Mahesh Kailash, and Kinnar Kailash. I literally had to coax my sister to do at least one Kailash yatra with me.
My reason to undertake Panch Kailash was to pay tribute to my father whom I was extremely close to and who introduced me to Mountains as a child when I did Amarnath Yatra with him on foot at the age of 5. His loss affected me deeply and the only way I could connect with him was through mountains. So it was a calling from within to do Panch Kailash yatra as a tribute to my father.
Through this travelogue, I would like to share my experience and all the relevant information pertaining to Shrikhand Mahadev Yatra.
For detailed information on Kailash Manasarovar Yatra and to read my travelogue, click here.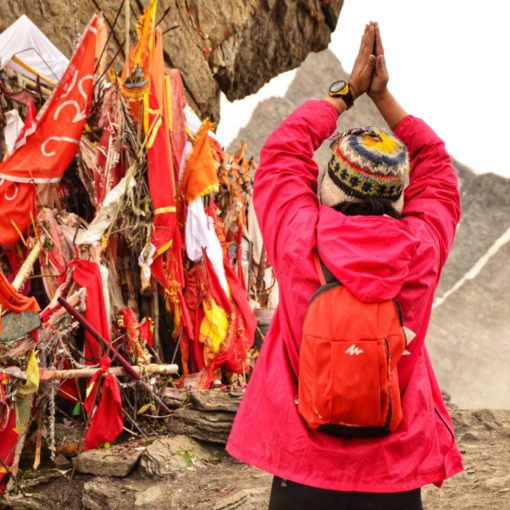 Shrikhand Mahadev – About the Yatra
Shrikhand Mahadev is one of the five Panch Kailash yatras, which includes Kailash Mansarovar, Manimahesh, Kinnar Kailash and Adi Kailash. Shrikhand Mahadev is one of the toughest pilgrimages in India and is situated in Kullu district in Himachal Pradesh at around 16404-16864 feet above sea level.
Once you reach the top you are mesmerized by a naturally formed rock in the shape of a Shivling, which stands around 75 feet tall. From the top, you get a breathtaking view of the Himalayan ranges from the Parvati valley of Kullu,Kartikey peak, Jorkandan, the Rangrik ranges of Kinnaur, Kinnar Kailash and other surrounding peaks to the southeast of Sutlej.
The Yatra is usually undertaken to coincide with the Ashada Poornima (full moon day in June or July) as per the Hindu Vikram calendar. Yatra is conducted over 15 days by the Shrikhand Mahadev trust in collaboration with the Himachal Pradesh government. All arrangements are provided for the pilgrims. A medical examination and registration is done before the yatra begins.
Common misconception about Yatra
It is widely believed that the altitude of Shrikhand Mahadev is 18,500 feet but in reality it is somewhere around 16,400 – 16,864 feet (5000 – 5140 mts). I verified the altitude with many trained mountaineers who also said altitude is around this only and not 18500 as said by most.
Also distance one way is around 25 kms only and not 30-35 kms as mentioned everywhere. And total trek is around 25 kms and not 75 kms.
Thanks to Rohit Kalyana, Rijul and Aayush for sharing important details I required. You can read Rohit's Shrikhand blog in Hindi here. The maps below are also credited to him.
 


Folklore about Shrikhand Mahadev
There was a demon named Bhasmasur who used to worship Lord Shiva for many years in Himalaya. Lord Shiva became pleased with his dedication and asked him for a boon.The demon asked Shiva to give him the power of burning any creature to ashes just by putting his hand on the head. Lord Shiva told him TATHASTUH, which means as you wish.
Getting such a boon, the demon became full of pride and tried to make Lord Shiva his first target. Lord Shiva understood it and vanished immediately and hid himself in a cave, Deodhank, near the village Nirmand. Being the Guardian of universe, Lord Vishnu appeared to save Lord Shiva.
Lord Vishnu went to the demon in the guise of a lady Vishwamohini and started dancing before the demon. The demon was mesmerised by the beauty of Vishwamohini and started doing dance as directed. In one pose Vishwamohini put one hand on her waist and second, on head and directed the demon to do it. As the demon was mesmerised he acted alike and ended up burning himself to ashes.
Just after the burning of Bhasmasur all Gods of the universe came to Devdhank to see Lord Shiva. They found Lord Shiva detained in a cave from where it was very difficult to come out. Then Lord Shiva used his power and became Shakti Swaroopa bursting the cave and appeared as Shrikhand Kailash. That cave was Devdhank.
Duration of yatra:
The duration of the Yatra is 5 days, however, you can take more days to acclimatize properly. Here is the itinerary from my Yatra.
Day 1 Jaon to Singhad
Day 2 Singhad  to Thachru
Day 3 Thachru to Bhim dware
Day 4 Bhim dware to Shikhand and back to Bhim dware
Day 5 Bhim dware to Jaon and back
Different routes of Yatra
Shimla – Rampur – Nirmand – Bagipul – Jaon Village (from this village trek starts – Kullu District) yatra route
Shimla – Rampur – Jeori – Ganvi – Fancha Village. This is in Shimla District and considered the hardest route.
Mandi – Aut – Banjar – Bathad Village – Majhali – Muniropa – Bhimdwari – Shrikhand – Thachru – Tharla – Sarahan – Bachleo Pass – Bathad (This is in Kullu).
Jhakri to Shrikhand route
Kullu – Manikaran – Barshaini via Kheerganga and Great Himalayan National park. If someone has more details of different routes do share in comments.
Gusaini – Banag Marg

And the Yatra begins…
Day 0: Bus to Shimla
We did Shrikhand kailash yatra during yatra time. Me and my sister left for the yatra from Delhi to Shimla in july 2017 and our husbands came to bid us goodluck and best wishes. My sister, like me, had done her Basic mountaineering course so I knew we would be able to support and take care of each other. We both had decided to do yatra on our own.
Day 1: Shimla to Jaon to Singhad around 3 kms
Next morning we reached Shimla and took a bus to Rampur. From Rampur, we took a shared tempo with other yatris who were also going for yatra. I had met them during my Kailash Mansarovar Yatra. We reached Jaon village by 1 pm. Jaon is the starting point of the yatra. Whatever eatables or other things you need to buy can be brought from here. There was a wonderful arrangement at Jaon for the yatra by the Shrikhand Yatra trust.
Langar and accommodation facilities were available. We met many local people who said why are you girls going alone and why are you carrying your backpacks. Some people also said that you will not be able to do it. That only strengthened our resolve and we asked him bhaiya why don't you say the same to guys!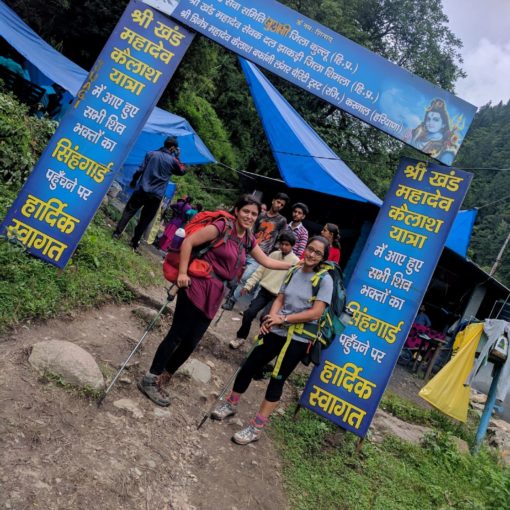 On a funny note, I asked a guy how the terrain was and if it was all steep or there would be some plain too on the trail and he laughed and said didi ab plain toh chandigarh mai hi milega. We decided to hike till Singhad for day one, which was 3 kms away. Registration for yatra and medical check up was done at Singhad.
We stayed at Singhad for the night. Weather was all cloudy and chai pakoras came handy. Little did we know that all our yatra will be mostly in the rain. There were bhajans going on till late evening and we huddled in a corner in the room and slept.
Day 2: Singhad to Bharatinala (2kms) to Thachru (2+5) total 7 kms
Next morning at breakfast, we started our yatra with a prayer with other members who were also going for the yatra. First stop is Bharathinala, which is a comfortable 2 km trek from Singhad. This short distance trek is more like a trailer as to what will come when the main trek starts.
The path is beautiful with several little hills, which run along the river, making them look pretty as a picture. Many bhandaras and langars happen at Singhad. Side effects of yatras are indiscriminate use of plastics. If we can carry our plastics back and not spoil the ecosystem.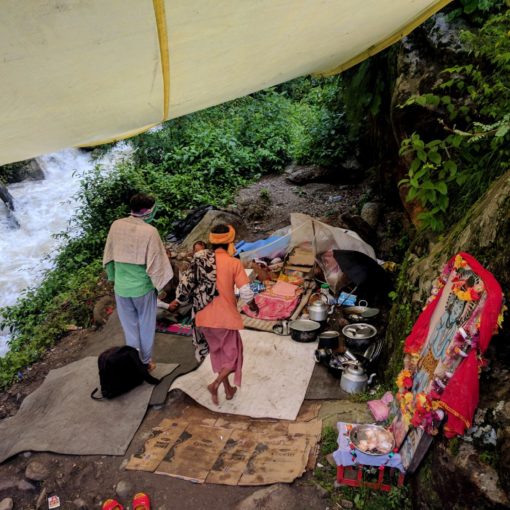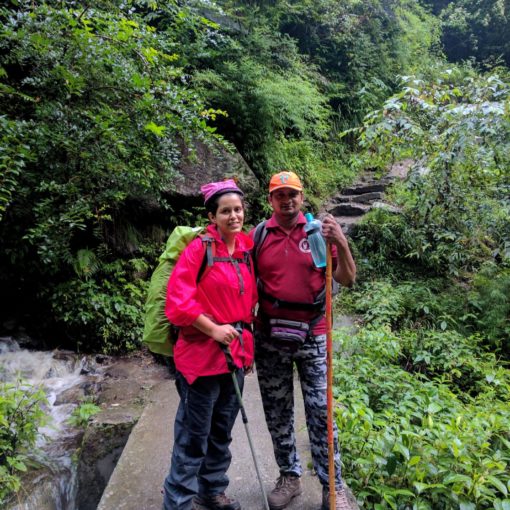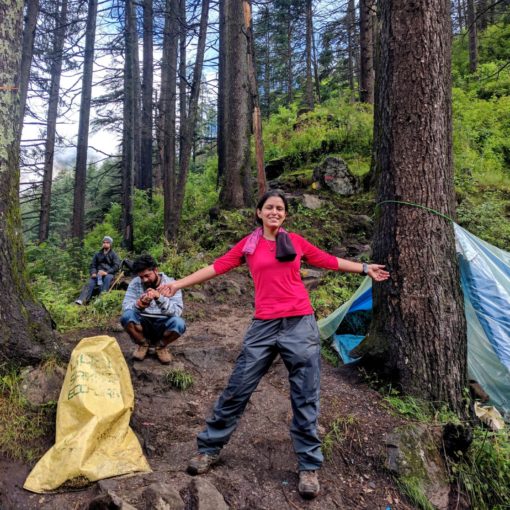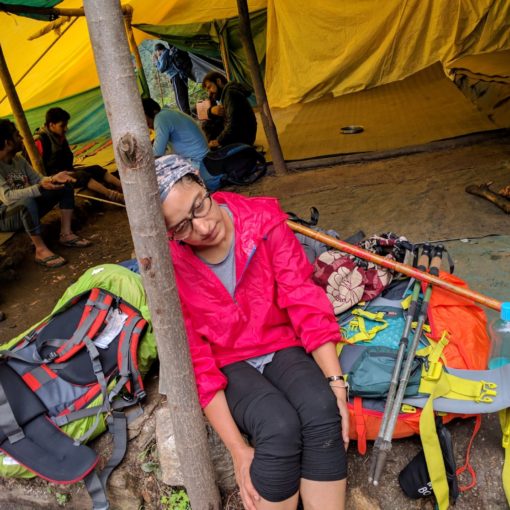 We had nimbu pani at Bharati nala and started the steep uphill climb till Thachru which was 5 kms away. It was raining, which made the climb even harder. My Kailash manasarovar group joined us and we all kept climbing chanting bhajans merrily.
By afternoon, we reached Thachru and our backs were all sore from carrying our rain drenched Rucksacks. We got into a tent and had chai as we mingled with people and watched the clouds float by.
Day 3: Thachru to Bhim Dware (9 kms)
We woke up in the morning and it was raining relentlessly. We waited till 7.30 am and when rain ebbed a little we continued our day's trek. It was immensely beautiful and started with 2 kms uphill climb till Kali top. It was all surrounded by clouds and on a normal day you could see Shrikhand Mahadev from here.
Hike from bharati nala till kali top is called as dhandi dar as it's steep and relentless. At Kali top, everyone prayed. There we met a man with symptoms of Acute Mountain Sickness and saturation of around 67 and I swiftly advised him to descend as quickly as possible after giving proper medication.
It really makes me happy that as a Doctor, I get to help people. What baffled me most was wrong advice some himachali people were giving people from other states like don't drink too much water and walk fast. This can prove to be catastrophic. It's highly recommended to walk at your own pace. Don't ascent too fast and drink minimum 3 to 4 litres of water daily to prevent Acute Mountain Sickness.
From Kali gati was a steep descent to Bhim Talai around 2 kms with continuous rains. Mud was all stuck to my clothes and don't ask how many times I fell. Rain makes it a lot harder.
At Bhim Talai, there was a melange of himalayan flowers, green grass and rain droplets quivering on leaves. What adds to enthusiasm is the fellow yatris who motivate you.
It was heartwarming to see many people in awe of us doing it all alone. And common chanting being bhole ki fauj karegi mauj and Bholenath sabke saath literally egged us to walk with enthusiasm. We had chai and aloo paranthas at Bhim Talai and started our walk to Kunsa around 2 kms.
Kunsa is a beautiful place and many people can also stay here overnight. We had momos and chow mein here. It tasted more than delicious and totally unexpected. From there it was an uphill climb in the rain to Bhim Dware that was around 3 kms. When I cast my first look at Bhim Dware, I couldn't believe whether it was real. It looked like a dream. With many tents, flowing waterfalls, green grass and wayward clouds, there was no better definition of Heaven.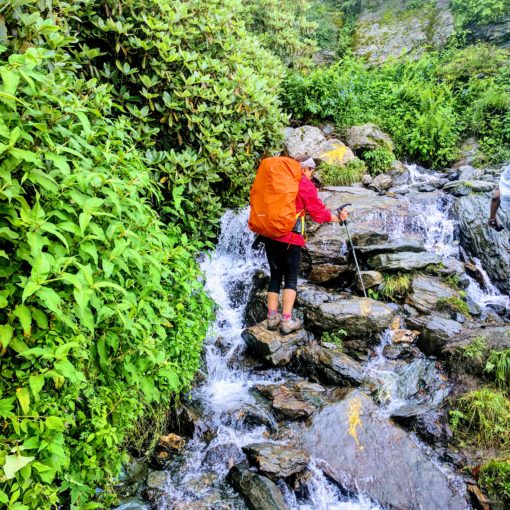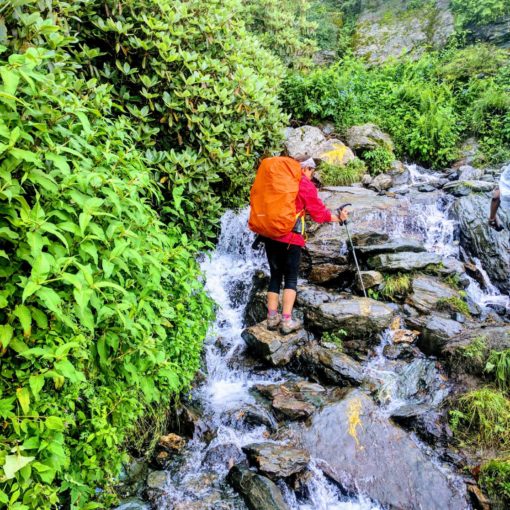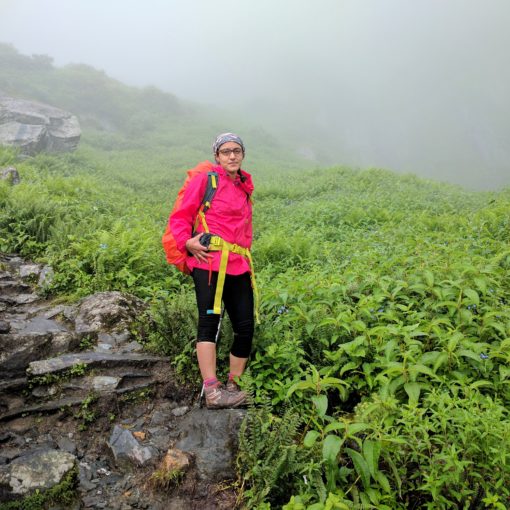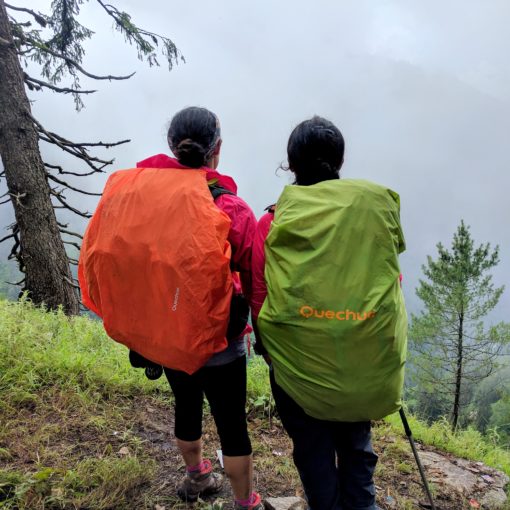 My sister flung her rucksack in excitement and we both were awed by it. We took a tent high up to revel in the beauty. Other members also joined us. Mid afternoon was spent drinking chai and chatting away and preparing for the final day, which was long and arduous.
Many people go ahead and stay at Parvati Bagh and that makes the next day's hike a little easier.
Day 4: Bhim Dware to Shrikhand Mahadev and back to Bhim Dware (14 to 15 kms)
We woke up and got our packed lunch and thankfully it wasn't raining. We started at around 4 am with a group of other friends with headlamps on our heads and saw the far off lights at Parvati Bagh, which was around 2 kms away and a steep uphill. You cross a waterfall before the climb. In less than 80 minutes we reached Parvati bagh. It was all muddy due to rains the previous day. Parvati bagh has many himalayan flowers including Brahma Kamal.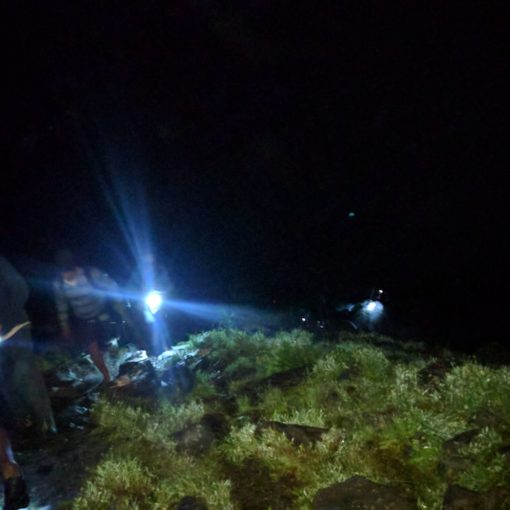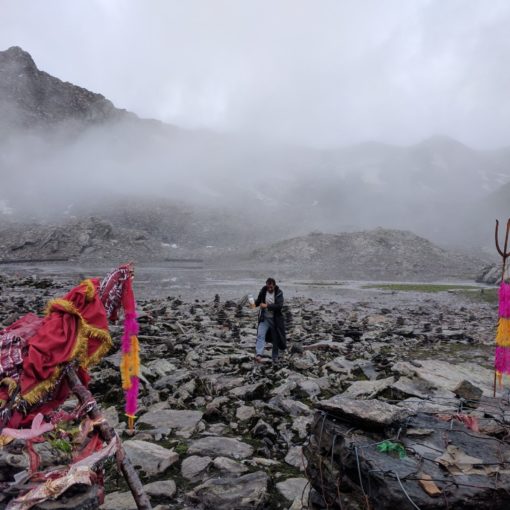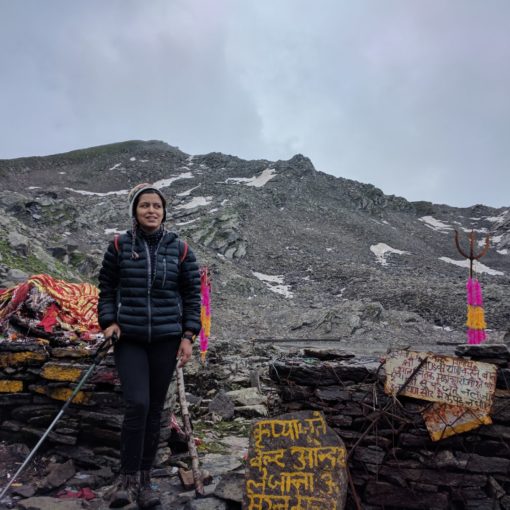 Some people stay at Parvati Bagh and that makes their journey the next day easier. Legend says that this is the place where Mata Parvati decided to stay while lord Shiva was doing Tapasya (meditation,/austerity) on the peak (Khand) & she used to take bath in the same waterfall. The distance from Parvati Bagh to Nain Sarovar is around 2km.
On the way to Nain Sarovar, one can find boulders and water streams. Also, the altitude reaches to approx. 14500 ft, from where the real grind starts and effects of altitude start to set in. Legend says that the sarovar was created by the tears of Mata Parvati when she was worshiping lord Shiva.
This makes the water holy, so people generally take a dip in the water and re-fill their water bottles and continue.
We stopped for some rest at Nainsarovar and filled our water bottles. It was a cloudy day.
On a clear day, you can see Shrikhand from here. After this point, came the tough part of the yatra and to make matters worse, it started drizzling. My sister and I both had support of each other and both were feeling fine albeit a little breathless.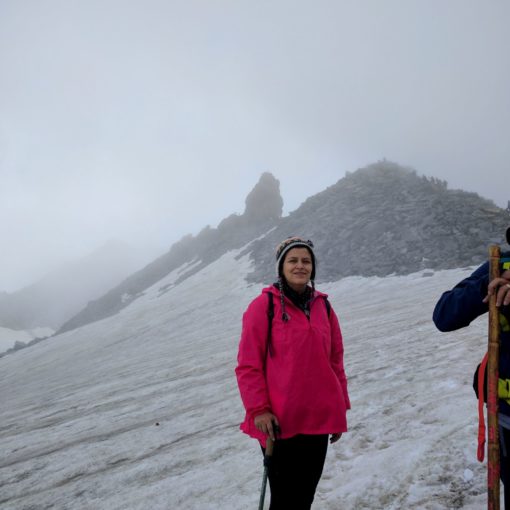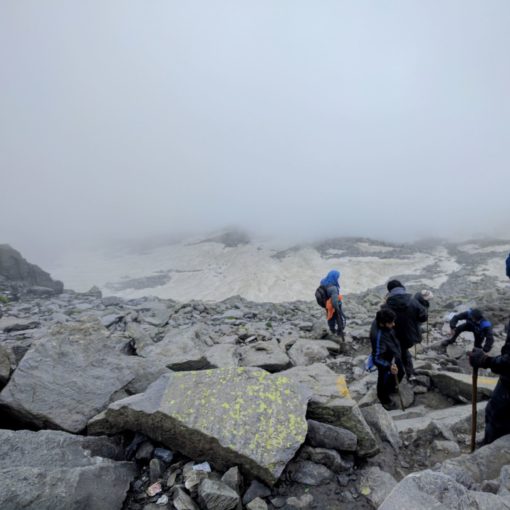 Now the real test began. On the way to Shrikhand – one needs to climb 7 small peaks through rock tunnels , climbing big boulders and passing steep glaciers. On the top one can see a 75 ft. tall rock in the shape of shivling. We started the steep ascent without a path and boulders, loose rocks and mud. Climbing up, I kept thinking how we would come down especially if it rains.
I met a  local girl who was doing her yatra in flip flops and I was astonished. Soon many local himachali boys surpassed us saying bohut slow ho aap (you are very slow). I retorted back saying koi race toh nahin hai (it's not a race). I believe in walking at your own pace otherwise AMS can be dangerous.
As we were climbing up, I met a guy from Delhi who was literally struggling to breathe and had no water. We gave him our water and told him to immediately descend. One has to cross many snow patches and the closer it seems, the farther Shrikhand becomes.
Bhim Shila is a large sized rock in between Nain Sarovar and shrikhand Kailash is believed as the place where Bhim (one of Pandavas) tried to make the staircase for heaven.
Soon we reached bhim bahi and voila this place had a phone connection. We were quick to call our mother and told her about our journey. From here, it's a steep climb and there were unimaginable boulders of all shapes and sizes. We met some young boys smoking charas all the way and telling me didi ek joint le lo..high milega (sister, take a joint, you'll get energy).
I told them I am high without it and you also shouldn't smoke. They laughed at me thinking I was some crazy woman. Finally through mist and fog and heaving lungs, we caught our first glimpse of SHRIKHAND.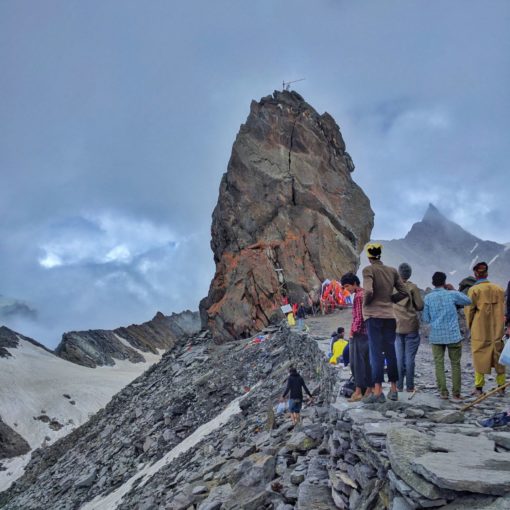 I was exhausted by then and had very little water left. Before we knew we had reached Shrikhand at 11 am after hiking for 7 hours from Bhim Dware in rain and clouds. It was the most exhilarating and spiritual moment of my life. I cannot describe the feeling.I felt a strong magnetic pull and an ecstasy which is sublime and intoxicating.
It had really tested my nerves and now that I was here I could literally feel the cosmic energies and magnificence of Shiva all around me.Soon our tiredness vanished while chanting Om Namah Shivay. We did our pooja and clicked pictures. Since it was cloudy, we couldn't see the surrounding peaks.
What appalled me most was to see tons of plastic lying near the shivling. Sometimes I sit and ponder as to what we are doing to Earth. Whole path on Shrikhand Kailash Yatra is strewn with polythene bags and chips wrappers, plastic bottles and what not. Why cannot people take the garbage back? Godliness will also think why I created humans.
Not just the path but near Srikhand Kailash there was so much junk which was disturbing. Some boys started collecting trash and burning it. But that too is not a solution.Solution is awakening your conscience. Don't litter. You cannot reach God by destroying what he so beautifully created.
There is no check and balance and we are disturbing balance of Himalayas and we all are equally responsible. Let's do our bit and at least carry all trash back to plains. I told someone who threw wrapper and he scolded me so badly that I guessed usko AMS ho gaya hain 

It is my request to all yatris to please not litter the holy place. Carry plastic back with you and clean the trail whatever little you can. If we cannot maintain the sanctity of such a place, we should just stay at home. Let us travel responsibly.
follow me on instagram
Soon the weather turned bad again and it started to drizzle. We decided to leave and by now we both were tired and thirsty. Since there was no water available to drink, we put some snow in our bottles. Then came the tough part. The steep descent!
My sister being stronger held my hand and we navigated the tough terrain. Kapil, our friend was also with us and helped us immensely and took great care of both of us and other members too.
We reached Nainsarovar and ate aloo paranthas and filled our water bottles. We shared our aloo piranhas with a group who were super hungry and they told us how proud they were of us to do the yatra and that too while carrying our rucksacks ourselves! From Nainsarovar it was not much of a descent but it had started to rain like cats and dogs and the descent from Nainsarovar was risky with multiple falls.
At least I fell quite a few times. It was beautiful and soon we saw camps at Bhim dware but it was more than one hour of descent.From Parvati bagh it was a game of mudslide then walk few steps and mudslide. I was totally drained by now.
By 7 pm we finally reached bhim dware, totally exhausted and dead. We dozed in our tents and ate dal chawal. 28-30 kms in one day, around 14 hours, steep uphill, steep descent,incessant rains, crazy winds, headaches, hunger, Shrikhand darshan and bliss..That summed up the most important day of our yatra.
Day 5: Bhim dware to Jaon to Shimla and back home
Next morning we were exhilarated and thanked Lord Shiva for giving us permission to complete the yatra. We bade adieu to Bhim dware and started our descent. On way we tried to collect whatever little garbage we could. This path is totally strewn with plastic.
Many local organizations conduct clean up drives after yatra ends. But wouldn't it be amazing if we also cared for our fragile environment and not litter it? We reached Jaon and everyone congratulated us.
As they say journey is equally rewarding as destination. I couldn't agree more.While returning from Srikhand Kailash Yatra, I was all exhausted and took a bus from Jaon village to Datt Nagar as people said that I don't need to go to rampur to go to Shimla and that I could get bus from here.
So me, my sister and two other people got down and wait patiently for bus to arrive but no bus arrived for 20 minutes. Tired and hungry we scout to find some place to eat but we find nothing but endless road and not even a taxi. Given the fact that we trekked in morning, caught a bus from Jaon and had to reach Shimla and take overnight bus to Delhi and were super hungry was making me agitated.
I sat on the road waiting for bus and on opposite side of road I see a man cleaning his white van and I call onto him and tell him bhayia shimla drop karoge please and after negotiation he relented. We were thrilled that we can now reach Shimla peacefully and have sumptuous meal at some dhaba too. As we sat in his van, he told us that it is no ordinary van and that it is "109 ki Seva".
He was Mr Tilak who was doing selfless service of carrying poor people to hospital and providing services to people in and around Nirmand free of cost. He told me he was follower of Mata and he feels giving back to people is his job. He told me his 109 ki Seva is available 24 hours and that this Seva was not for alcoholics. What impressed me most was his willingness to help and doing that free of cost.
His only condition was that bhajan will play in his van all the time which we reconciled to. He told me how he had taken a child to hospital at dead of night when everyone refused. Such people make you believe in goodness of humans and we departed by making some contribution to his Seva 109 ki.
He departed by saying that he hopes to make difference in people's life and I thought in my head that all yatras are not in Mountains…Some are in vans too. If you are going to Shrikhand, I encourage you to call him and use his van.
PS: I took his permission taken to post his photos.
Soon we reached Shimla. It was drizzling. We had samosas and cacophony of our surroundings couldn't blunt our enthusiasm. Soon me and my sister were on our way to Delhi. She slept in an hour and what did I do?
Any guesses?
I started to plan my next adventure!
Om Namah Shivaay.
Important Tips :
Never underestimate this yatra and trekking involved with it. Every year many people fall sick and few unfortunate ones die.
As a doctor and climber, I would advise you to go slow,acclimatize,drink around 4 litres of water daily, don't skip any meals, use sunscreen.If you have headache, giddiness or any other symptoms of Acute mountain sickness inform someone and descent if severe.
Diamox use if required and after doctors advise.
Carry adequate raincoats, backpack cover, trekking poles, head lamp, power bank, chocolates, energy bars with you.
After Nainsarovar, there is no water. So please carry extra water.
Don't rush, Go slowly. Respect your body.
Don't litter. Don't use plastic water bottles. Refill from numerous waterfalls.
Say no to drugs. Let divine high guide you.
Check weather before going. Yatra oftentimes closes due to bad weather.
If you are alone be with a group especially on last day of reaching Shrikhand from Bhim Dware.
Take adequate batteries for torch and Headlamp.
Dr. Varuna Raina
Yatra taken during July 2017
Follow my journey on Instagram: http://instagram.com/himalayanhermits
Hope you liked the travelogue. If yes, do drop a comment and share it. If there is something you would like to add or comment, please write in comments. I wrote this after so many of you asked me to and after doing lot of research so that correct information reaches everyone.
My goal is to write detailed blogs of all Kailash Yatras and panch kedars, so please stay tuned 🙂
If you liked it, please share and spread the love :)